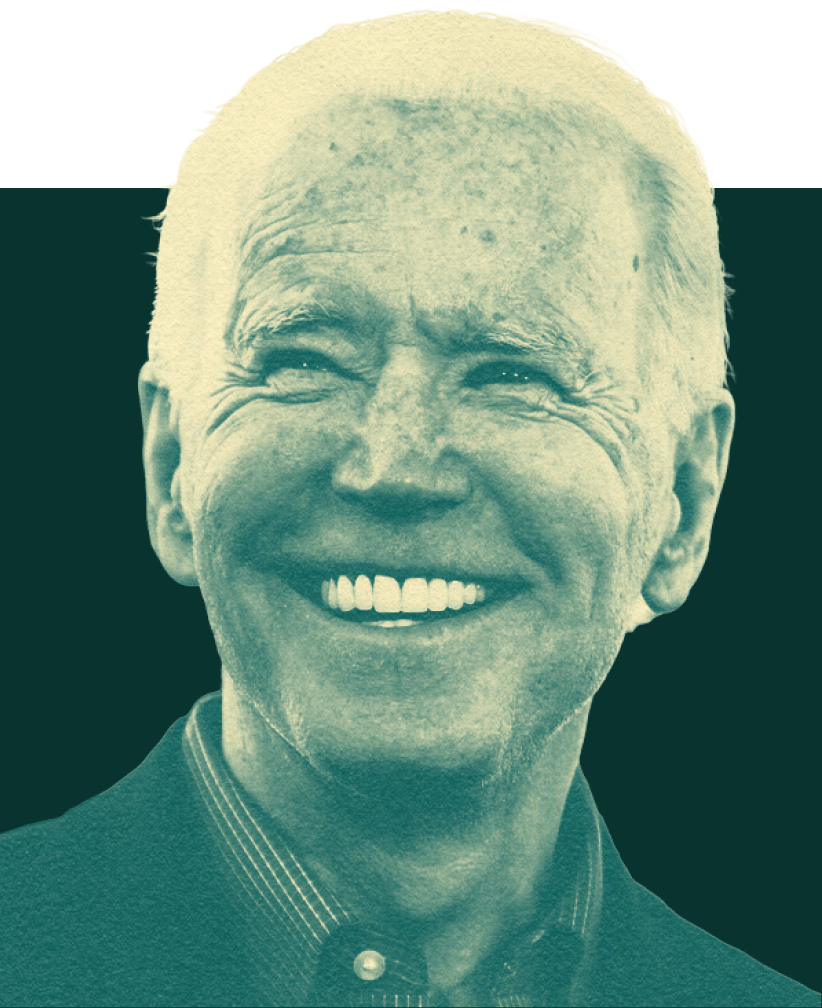 Climate Mandate
"They've given us a mandate for action on covid, the economy, on climate change, on systemic racism." - President-Elect Joe Biden
President-elect Joe Biden defeated Donald Trump with the highest youth turnout ever. Now, Joe Biden must assemble a powerful governing team to stop the climate crisis, create millions of good-paying jobs, address systemic racism, and control the COVID-19 pandemic.
Joe Biden has a choice to make: Does he want to be the leader of the American majority, or does he want to be Mitch McConnell's Vice President?
We can unite our nation by solving the crises we have in common: COVID-19, climate change, systemic racism and an economic recession.
Joe Biden must command the federal government with fierce urgency and bold creativity. Our next President must establish new executive offices, with expansive power to respond to crises faster than Mitch McConnell.
This is Biden's FDR moment.
Establish The Office of Climate Mobilization

Joe Biden has a ten-year window to stop the worst and most permanent effects of climate change. He can avoid Mitch McConnell's forced delays by creating a brand new executive office and senior position with wide-reaching power to combat the climate crisis — just as we mobilized to defeat the existential threat of Nazi Germany in WWII.

This new position will convene and coordinate across the President's Cabinet agencies and, ultimately, hold every federal department accountable to the national project of stopping climate change. The Office of Climate Mobilization will deeply embed this mission into all of our spending, regulations, policies, and actions.

The Office of Climate Mobilization will not require Mitch McConnell's approval. Joe Biden can and must appoint a qualified leader who is trusted by the climate and environmental justice community.
Climate Cabinet Criteria:
No ties to fossil fuel companies, or corporate lobbyists.
Collectively, the Cabinet should be representative of America.
Fights with the urgency that the climate crisis demands.
Secretary of the Interior

Rep. Deb Haaland

U.S. House Representative, New Mexico

A visionary Secretary of the Interior has enormous latitude to crack down on giveaways to fossil fuel corporations, like permits to drill for oil on public lands and in public waters. With a progressive leader at the helm, we can make real progress.

As the first Native American to hold this position, Rep. Deb Haaland would usher in a new era of Indigenous authority over stolen land. She is a fierce ally of our movement who has fought for renewable energy job creation in the House as Vice Chair of the House Natural Resources Committee and Chair of the Subcommittee on National Parks, Forests and Public Lands.

Top Pick

Rep. Deb Haaland

U.S. House Representative, New Mexico

Rep. Raúl Grijalva

U.S. House Representative, Arizona

Rep. Jared Huffman

U.S. House Representative, California

Secretary of State

Rep. Barbara Lee

U.S. House Representative, California

America needs a Secretary of State who will raise the level of ambition for climate action throughout the world. Beyond rejoining the Paris Climate Accords, the next Secretary of State can convene world leaders during the first 100 days to ratchet up the global response to climate change.

Rep. Barbara Lee is one of a few brave Congressional Representatives who voted against the Iraq War. Her foresight would end the era of oil wars. She introduced the Women and Climate Change Act to develop coordinated strategies to mitigate the impact of climate change on women and girls around the world.

Top Pick

Rep. Barbara Lee

U.S. House Representative, California

Rep. Ro Khanna

U.S. House Representative, California

Sen. Chris Murphy

Senator, Connecticut

Secretary of the Treasury

Senator Elizabeth Warren

Senator, Massachusetts

A bold Secretary of the Treasury can help transform the country's spending priorities, even without Congress. By steering federal money to programs that encourage the development of renewable energy job creation, a Treasury Department can make real progress.

Senator Warren has been a visionary leader, and one of our staunchest allies in Congress. She's taken on Wall Street her entire career, and fought for transformative change in her presidential campaign. She's a Green New Deal champion, and has called for transformative investments to tackle climate change and create millions of good union jobs.

Top Pick

Senator Elizabeth Warren

Senator, Massachusetts

Sarah Bloom Raskin

Distinguished Fellow at Duke Law School's Global Financial Markets Center

Robert Reich

Chancellor's Professor of Public Policy at the University of California at Berkeley

Attorney General

Keith Ellison

Minnesota Attorney General

A visionary Attorney General can stand up for justice, work to dismantle systemic racism, and hold polluters accountable for their crimes by enforcing clean air and water laws already on the books, and using others to go after fossil fuel corporations who profit off of deception about climate change.

Keith Ellison is the Attorney General of Minnesota, and a longtime progressive leader. He has sued Exxon Mobil, Koch Industries, and the American Petroleum Institute over their campaign of deception about climate change, and took George Floyd's killers to court. As the first-ever Muslim Member of Congress, he co-chaired the Progressive Caucus.

Top Pick

Keith Ellison

Minnesota Attorney General

Larry Krasner

The City of Philadelphia's District Attorney

Dana Nessel

Michigan Attorney General

Chair, Council of Economic Advisors

Darrick Hamilton

Executive Director of the Kirwan Institute for the Study of Race and Ethnicity at The Ohio State University

The Chair of the Council of Economic Advisers (CEA) is a key leader who helps guide the nation's economic strategy. A visionary leader at the helm can help the nation build back better, guarantee every American a good job, expand workers rights, and deliver investment equitably to every community, whether Black, white, brown, Indigenous, urban or rural.

Darrick Hamilton is a leading expert on closing the racial wealth gap and a strong advocate for a federal jobs guarantee.

Top Pick

Darrick Hamilton

Executive Director of the Kirwan Institute for the Study of Race and Ethnicity at The Ohio State University

Stephanie Kelton

Professor of Economics and Public Policy at Stony Brook University

Heidi Shierholz

Senior Economist and Director of Policy, Economic Policy Institute

National Economic Council (NEC) Director

Joseph Stiglitz

Chief Economist at the Roosevelt Institute and Professor at Columbia University

A progressive Director of the National Economic Council will have a pivotal role in helping the president build back better, guarantee every American a good job, expand workers rights, and deliver investment equitably to every community.

Joseph Stiglitz is a world-renowned economist who has called for a mobilization to confront climate change on par with mobilizing for a third world war.

Top Pick

Joseph Stiglitz

Chief Economist at the Roosevelt Institute and Professor at Columbia University

Bharat Ramamurti

Managing Director of the Corporate Power program at the Roosevelt Institute, Member of Congressional Oversight Commission

Manuel Pastor

Professor of Sociology and American Studies & Ethnicity at the University of Southern California

Secretary of Labor

Senator Bernie Sanders

Senator, Vermont

America needs a Secretary of Labor ready to create green jobs with good pay and good benefits, and who can create a Civilian Climate Corps to employ millions of people to do the urgent work of repairing and strengthening our communities in the face of climate change.

Senator Sanders has shifted American politics to focus on solutions at the scale of the crises workers are experiencing. He can bring the power of the federal government to every labor contract negotiation. He can lead the push to create millions of good-paying jobs as we mobilize to stop climate change.

Top Pick

Senator Bernie Sanders

Senator, Vermont

Mary Kay Henry

International President of the Service Employees International Union (SEIU)

Andy Levin

U.S. House Representative, Michigan

EPA Administrator

Dr. Mustafa Santiago Ali

Vice President of Environmental Justice, Climate, and Community Revitalization for the National Wildlife Federation

A visionary EPA Administrator can do a lot to combat the climate crisis without Congress. It's not just undoing Trump's rollbacks of clean air and water standards; an EPA Administrator who understands the urgency of the crisis can help electrify the economy by enacting new standards for green vehicles and buildings.

Mustafa Ali is a visionary environmental justice leader who began working on social justice issues at the age of 16. He joined the EPA as a student, and is one of the country's most respected voices on climate and environmental justice issues.

Top Pick

Dr. Mustafa Santiago Ali

Vice President of Environmental Justice, Climate, and Community Revitalization for the National Wildlife Federation

Kevin De León

Professor, senior analyst, and distinguished policymaker-in-residence at the UCLA Luskin School of Public Affairs

Heather McTeer Toney

Senior Director, Moms Clean Air Force

Secretary of Housing and Urban Development

Rep. Rashida Tlaib

U.S. House Representative, Michigan

America needs a Secretary of Housing and Urban Development who understands our vision for a Green New Deal for public housing, because ending homelessness and moving our economy to clean energy must go hand in hand.

Rep. Rashida Tlaib is a progressive powerhouse, and the author of the People's Housing Platform—a groundbreaking, progressive housing framework that declares housing as a fundamental human right. She is also a champion of environmental justice and addressing the disparate health impacts of fossil fuel emissions on frontline communities.

Top Pick

Rep. Rashida Tlaib

U.S. House Representative, Michigan

Jumaane Williams

New York City Public Advocate

Rep. Karen Bass

U.S. House Representative, California

Secretary of Transportation

Rep. Jesús "Chuy" García

U.S. House Representative, Illinois

America needs a Secretary of Transportation who is ready to combat climate change by building accessible public transit for all. A visionary in charge could redirect federal grants towards electric vehicle charging station, and public transit.

Rep. García is one of the first Mexican immigrants to serve as a member of the U.S. House of Representatives. He serves on the House Transportation and Infrastructure Committee and has been a leader in calling for federal transportation and infrastructure policies that address climate change.

Top Pick

Rep. Jesús "Chuy" García

U.S. House Representative, Illinois

Sara Nelson

International President of the Association of Flight Attendants-CWA

Rep. Ayanna Pressley

U.S. House Representative, Massachusetts

Secretary of Agriculture

Rep. Chellie Pingree

U.S. House Representative, Maine

America needs a Secretary of Agriculture who will bring investment and economic opportunity to family farmers and rural communities. By investing in local and regional food systems that support farmers, agricultural workers, healthy soil, and climate resilience, the next Secretary of Agriculture can ensure economic security while advancing our fight against climate change.

Rep. Chellie Pingree has been an organic farmer for more than 40 years and recognizes that farmers are allies in the fight against climate change. She is Vice Chair of the House Appropriations Committee on Interior and Environment and serves on the Subcommittee on Agriculture of the House Appropriations Committee.

Top Pick

Rep. Chellie Pingree

U.S. House Representative, Maine

Rep. Marcia Fudge

U.S. House Representative, Ohio

Sen. Cory Booker

Senator, New Jersey

Secretary of Health and Human Services

Rep. Pramila Jayapal

U.S. House Representative, Washington

All people have a right to quality health care. The COVID pandemic has demonstrated all too tragically the interconnected threads of environmental injustice, lack of access to affordable health care, and mortality from new risks. A visionary Health and Human Services Secretary can work to expand access to health care for all.

Rep. Pramila Jayapal is a progressive powerhouse, and the first South Asian American woman elected to the U.S. House of Representatives. She's a leading proponent of Medicare for All, and a key champion of the Green New Deal.

Top Pick

Rep. Pramila Jayapal

U.S. House Representative, Washington

Dr. Abdul El Sayed

Chair of Southpaw Michigan

Donald M. Berwick, MD, MPP

President Emeritus and Senior Fellow, Institute for Healthcare Improvement